Reading God's Word:
an essential part of every day
Resources to help you read the Bible
The Pocket Testament League was founded on the principle that reading God's Word is an essential element of obedience to Christ and living our lives the way God wants us to live.
We've created some resources to help you get deeper into the Word of God. These are free of charge, available to all members. Take a moment now to review the various ways you can get more intimate with Scripture:
Pocket Devotions A Scripture study every weekday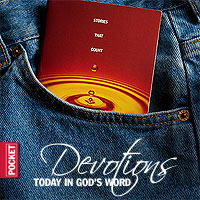 This exciting free daily devotions program helps you spend time in God's Word, with insightful commentary as you study just one or two verses of Scripture each day. Every weekday (Monday to Friday) you receive a convenient E-mail devotional. It takes just minutes a day to get into a habit of daily Scripture reading. Written by Mike Brooks of South Shores Church, these insightful messages provide a small Scripture passage, with commentary and a few questions to apply the message to your life. Designed in a format that lets you start from Day 1 at any time, you can subscribe or unsubscribe any time you like.
The 21-Day Challenge Read the book of John in just 21 days

If you're sharing the gospel (or even if you aren't), we invite you to get familiar with the entire book of John. It's pretty simple, by applying the 21-Day Challenge, a concept pioneered by Anita Keagy of JoyShop Ministries. Take the 21-Day Challenge for yourself and become familiar with the life and ministry of Jesus.
Five Reasons to read the Bible Why it's the most important book you'll ever read
Not only is it essential to read God's Word daily, but we should be able to defend the reasons why when we share our faith with others. Dan Buttafuoco, an attorney in New York City, is president of the Historical Bible Society. He has written a powerful description of why we need to be reading Scripture every day. We reproduce it here to encourage you to read God's Word.
Great Bible Verses for Sharing Powerful texts for evangelism
A number of Scripture passages are exceptionally useful for sharing your faith. We recommend that you spend a small amount of time to get familiar with these verses so you can quote them or point to them when the opportunity comes up.