Helping you spend time
daily in God's Word
Pocket Devotions, a free daily devotional
Here's your daily devotional!
If you wish to receive these free devotionals every weekday by E-mail, click the button below. Note: you'll have to log in or create your membership account first. Membership in the League is free. Join now!
Sign up to receive the Daily Devotional
"Why Not Quit and Find Another Job?"
Acts 25:23-27
[Festus speaking:] "For I think it is unreasonable to send on a prisoner without specifying the charges against him."
Thoughts for Today:
Festus is in a bit of a quandary so he has asked King Agrippa for help. You see Paul appealed to Rome (which is the right of every Roman citizen), yet Festus can see no violation of Roman law that Paul has committed. What is he to do? Send him off with no specific charges against him? Remember Caesar at this time was Nero. That's right -- the same Caesar Nero who history tells us lost his mind, lit his garden with human candles made of Christians, then rode naked in his chariot around it, screaming insanely, "You are now the light of the world!" I think Festus had some good reasons to be concerned and seek King Agrippa's advice.

Recently my daughter described to me what an ogre she thought her boss was -- constantly berating, intimidating and threatening his employees. I reminded her it was a free country, so if she was unhappy why not quit and find another job. She said, "Well I guess he isn't so bad, and the money is really good, I think I'll hang out for a while longer and see if it gets better." We proceeded to have a long father/daughter chat. She at least had positive choices: she could continue to work, or leave and find another job, neither one involved death nor dismemberment. I wonder what choices Festus had. I wonder what consequences he faced for making the wrong decision.
Questions to Ponder:
Sometimes I don't think we really appreciate how good we have it in this country despite all of its flaws. I know it's popular during these times of economic stress to question where government has been in protecting us. Although some of us might need to work a little longer than we originally intended (as we've seen savings evaporate), or find another job and career -- remember this: we still are free to worship our God. We don't face the threat of being turned into human candles to light some crazy emperor's garden. I for one thank God for the United States of America. What about you?
Sign up to receive the Daily Devotional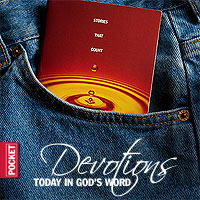 There's nothing like God's Word to create purpose in your life that lasts the entire day and beyond. We encourage you to Read, Carry and Share the Word of God. Pocket Devotions are sent by E-mail every weekday (Monday to Friday). On weekends we encourage you to be creative and study on your own in any area of Scripture where God leads you.
You can start from Day 1 at any time. Messages are sent automatically. Subscribe now! You may unsubscribe at any time.
About the author
Pocket Devotions are written by Mike Brooks. A retired businessman, he is Moderator of South Shores church, leads the Deacon Board, serves on the finance committee, and he teaches a Men's Bible study and the Men's Ministry. Mike has a passion for evangelical missions. He is the husband of Sherry; the father of Ryan, Natalie, Krissy, Rebecca, and Amanda; the father-in-law of Ariel; and the grandfather of Conner and Christian.