Together, let's work towards
a great spiritual harvest
More details about sponsorship
What is Sponsorship?
We have many members who are full time students, live with disabilities, exist on a fixed income or have been temporarily unemployed, yet they are some of our most active and enthusiastic members. They may not have the finances at the moment, but they certainly have the passion to share God's Word and the hope of the Gospel Message! They're just waiting for a sponsor to be found and to share in this process with them.
How it Works
You can choose your preferred way to sponsor, whether that's focusing on a certain cause you're passionate about (homeless, military, prisons, missions, youth and more), a specific individual, a particular church, or simply the next person in line needing a sponsor. Also, if you want to set a goal to give a fixed number of Gospels over the next year, we can tell you exactly how that breaks down to a reasonable monthly amount. Then, these deserving and enthusiastic members receive the Gospels they need and head out to share their faith
Tracking Your Impact
You get to see the results of these members presenting Gospels and sharing their faith actively in their communities around the world! You remain completely anonymous to the members you've sponsored, but are blessed to participate in the ongoing stories of God's work as they share their faith and provide the hope of the Gospel. You'll be receiving these encouraging emails identifying who you've sponsored and the stories they're reporting back.
Here's an example of a typical story you may receive, posted just days ago:
The Live Map
In addition to the amazing stories you'll receive, you can also see your sponsorships in action on a live map!
We have a unique Gospel Locator Map that provides a real-time snapshot of where your sponsored Gospels are at work. Once shipped, their location is plotted on the map.
Each time a testimony hits our decision page, we use the Gospel tracking ID to pin their location on the map, so you get to see exactly where a life was impacted in real-time. What an amazing way to see your generosity actively moving across the nation and potentially the world, as people come to a saving knowledge of Jesus Christ!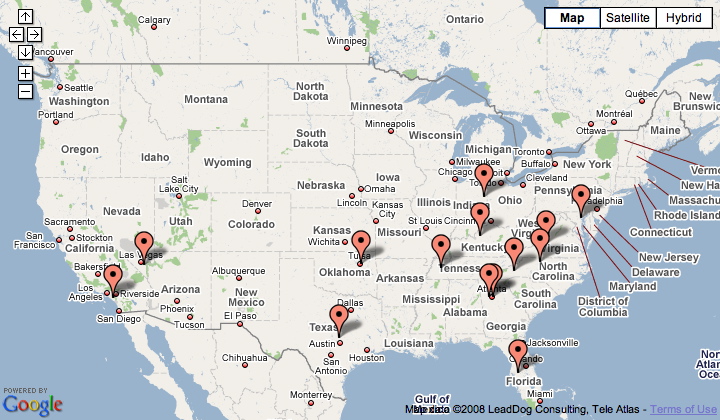 Additional Benefits of Sponsorship
Fulfill the Great Commission in your life and see lives changed forever for the Kingdom
Multiply yourself in ways you couldn't otherwise and see instant results
Focus on areas of outreach that match your passions
Obtain direct access to all of the stories and testimonials
Securely access your profile and giving history
Share prayer requests
Engage in our Boot Camp trainings and scripture reading challenges
Access the Pocket Devotionals
Note: You don't have to become a member to give, but to take full advantage of all the benefits we've discussed, it would be necessary. Plus, it's easy to sign up and free, so no need to miss out, sign up now.