Helping you spend time
daily in God's Word
Pocket Devotions, a free daily devotional
Here's your daily devotional!
If you wish to receive these free devotionals every weekday by E-mail, click the button below. Note: you'll have to log in or create your membership account first. Membership in the League is free. Join now!
Sign up to receive the Daily Devotional
"Harmony between God's Will and Our Own"
Romans 12:2c
Then you will be able to test and approve what God's will is--his good, pleasing and perfect will.
Thoughts for Today:
Not long ago a man came to me with Bible in hand and this passage highlighted. He said to me, "I don't get or agree with this verse. What right does man have to test and approve God's will?" I said, "Well, to a certain degree, that's what you're doing right now. You're testing what His Word says, so let's look a little deeper."

One of the key principles in Biblical study is to make sure that what we're looking at is in the proper context. What previously has Paul been discussing? The transformation and renewal of our minds. So how does this occur? And further, how do we find God's will? The answer to both questions is through God's Word. Scripture begins the metamorphosis -- from the inside out -- it is how we meet Jesus personally, receive His Holy Spirit internally, and thereby gain insight into God's infinite wisdom.

Paul writes of this to Titus in Titus 3:5: "...he saved us, not because of righteous things we had done, but because of his mercy. He saved us through the washing of rebirth and renewal by the Holy Spirit." It works like this: When we permit the Holy Spirit to renew our minds, we then are able to discover and test the will of God. As we yield to His will we realize it is first good, then acceptable, and finally perfect. The ultimate result is harmony between God's will and our own Ð ours is thus brought into alignment with His. By this process of rebirth and renewal, we then can say with confidence, "Oh, now I understand your precepts."
Questions to Ponder:
Do you feel disconnection between God's will and your own? Take a moment right now and ask God to reveal to you His will and how you might be out of alignment. Are you listening? Allow His Word to speak to you. Will you approve of His will?
Sign up to receive the Daily Devotional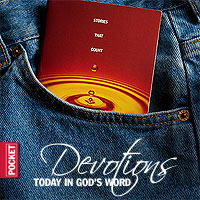 There's nothing like God's Word to create purpose in your life that lasts the entire day and beyond. We encourage you to Read, Carry and Share the Word of God. Pocket Devotions are sent by E-mail every weekday (Monday to Friday). On weekends we encourage you to be creative and study on your own in any area of Scripture where God leads you.
You can start from Day 1 at any time. Messages are sent automatically. Subscribe now! You may unsubscribe at any time.
About the author
Pocket Devotions are written by Mike Brooks. A retired businessman, he is Moderator of South Shores church, leads the Deacon Board, serves on the finance committee, and he teaches a Men's Bible study and the Men's Ministry. Mike has a passion for evangelical missions. He is the husband of Sherry; the father of Ryan, Natalie, Krissy, Rebecca, and Amanda; the father-in-law of Ariel; and the grandfather of Conner and Christian.