Helping you spend time
daily in God's Word
Pocket Devotions, a free daily devotional
Here's your daily devotional!
If you wish to receive these free devotionals every weekday by E-mail, click the button below. Note: you'll have to log in or create your membership account first. Membership in the League is free. Join now!
Sign up to receive the Daily Devotional
"The Natural Response of a Life Committed to the Lord"
Acts 16:15
When she and the members of her household were baptized, she invited us to her home. "If you consider me a believer in the Lord," she said, "come and stay at my house." And she persuaded us.
Thoughts for Today:
In the movie "The Natural" Robert Redford plays the part of Roy Hobbs, a young man who might ultimately become the best baseball player of all time. However, on his way up the ladder of success to the majors, he is distracted from his journey by a "black widow" type of character (Barbara Hershey) and disappears for many years. When he reemerges, now much older, he lands a spot with a New York team and begins tearing up the league -- he's still The Natural.

For many of us, the ending of this movie is how we would like or expect our lives to play out. In Roy Hobbs case, a lightning bolt hits a tree, and from the remnant a bat is crafted that not only crushes baseballs but also revives his career. Are you waiting for your magical lightning bolt before you find or get back to your "natural" talent or ability as a Christian? Think back to when you first became a Christian, how did you feel when you came out of the baptismal waters? Did you feel joy, relief, freedom, love? What about the unbelievable desire to want to give back; to do something for others; to share your joy and newfound life in Christ? That is the natural response of a life committed to Christ and is exactly how Lydia from our passage today felt as well. She wanted to give and persuaded Paul and his company to accept her offer of hospitality, "If you consider me a believer in the Lord," she said, "come and stay at my house."
Questions to Ponder:
Too often we let the pressures of our own selfishness get in the way of our natural desire to give and be hospitable. When was the last time you freely offered yourself or your home to someone else? Have you been giving joyfully and in fullness to the Lord as He has given to you? Take a moment and pray about this.
Sign up to receive the Daily Devotional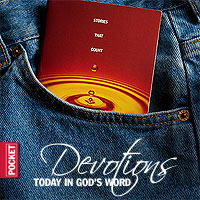 There's nothing like God's Word to create purpose in your life that lasts the entire day and beyond. We encourage you to Read, Carry and Share the Word of God. Pocket Devotions are sent by E-mail every weekday (Monday to Friday). On weekends we encourage you to be creative and study on your own in any area of Scripture where God leads you.
You can start from Day 1 at any time. Messages are sent automatically. Subscribe now! You may unsubscribe at any time.
About the author
Pocket Devotions are written by Mike Brooks. A retired businessman, he is Moderator of South Shores church, leads the Deacon Board, serves on the finance committee, and he teaches a Men's Bible study and the Men's Ministry. Mike has a passion for evangelical missions. He is the husband of Sherry; the father of Ryan, Natalie, Krissy, Rebecca, and Amanda; the father-in-law of Ariel; and the grandfather of Conner and Christian.