One simple method: helping you share Jesus in His own words!
Does your heart beat for Jesus? And, do you want everyone to meet Jesus and have eternal life? We know that it can be overwhelming and frustrating at times. That's why we created a simple, no pressure method to share Jesus using pocket-sized Gospels of John. No stress. No pressure. No arguing. Simply sharing Jesus in His own words.
Experience this for yourself when you join a movement of believers who are reaching the world for Christ one person at a time.
God has placed it on my heart to share the Gospel, but to simply just start talking with a stranger seemed forced and unnatural. I knew there was a missing piece. God has answered my prayers--your simple, three step process immediately "clicked" for me! - League Member Carolanne W.

I place a Gospel of John in a Christmas treat bag with candy and a holiday card, hoping to cheer those who want the Gospels of John. Curling ribbon at the top of the bag made them a festive gift. There is no better gift in the world than the Word of God ... leading to a relationship with Christ!- League Member Bertie K.
What's included? Receive a selection of our most popular Gospels for winter sharing, which may include: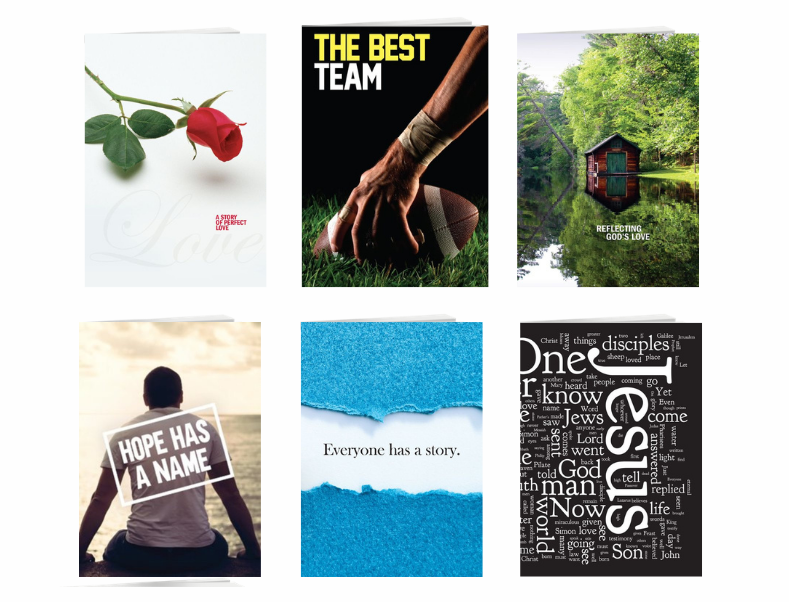 These Gospels may be pocket-sized, but each contains a transformational invitation to find hope, peace and a new life in Jesus. Toss a few in your bag, car, and work bag and share this Gospel as a small gift to those God places in your path. God's Word is active and alive. You'll never know how it will impact the person who receives it. Get started by requesting your Gospel kit below!
NOTE: Gospels come in packs of 10. When ordering 10 Gospels you will receive only 1 cover.
How many people do you want to reach?